How to change your pricing plan
You can switch to a new plan immediately by following the two steps shown below.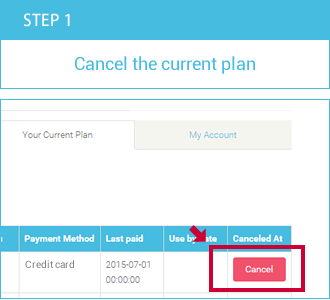 In the contract information of the current plan contract, click Plan Contract and select Cancel.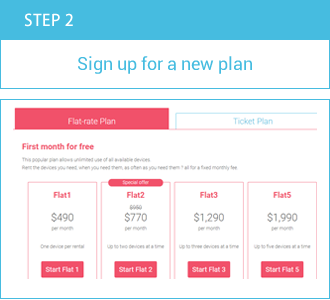 After completing the cancellation, select and sign up for a new plan from the plan purchase page. Once the sign-up is complete, the plan switching will also be complete.
Plan switching Example
Switching from Monthly 3 to Flat 2
If you switch to another plan in the middle of the month, you can continue to use the current plan during the validity period.
Flat-rate plan will be automatically renewed every month. If you want to stop using, please cancel the plan.
We will charge 2 months price for the first time because Flat-rate plan is free for the first month of the purchase, and its minimum usage period is 3 months.
We will charge a full month price for the month you cancel the plan.