Case Study -Square Enix Co., Ltd.-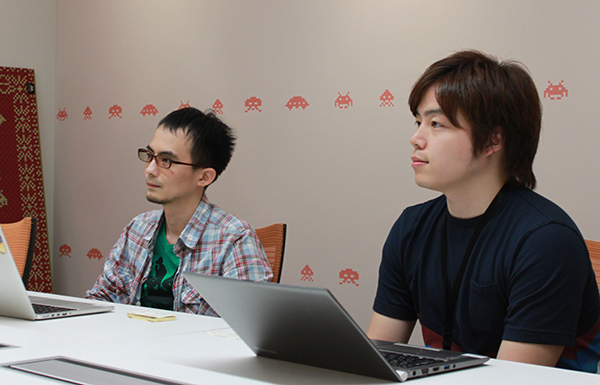 -First, please tell us about your business.-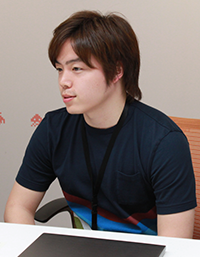 Mr. Futagi:
We are offering the "Dragon Quest X Bokensha no Odekake Cho Benri Tool" (Super-Convenient Tool for Adventurers), an application that links into "Dragon Quest X Online."
This smartphone app supports users playing "Dragon Quest X" in further enjoying the game's world. In the world of the online RPG "Dragon Quest X," various things happen every day. However, some customers have daily lives that make it difficult to find time to log in to the game. We created the "Benri Tool" to allow such customers to readily experience the world of "Dragon Quest X" even when they are not logged in to the game. We developed the tool in cooperation with both in-house and external development teams. Most of our in-house development team consists of engineers, including Agata, who is a technical director.
-Please tell us what led you to introduce Remote TestKit.-
Mr. Agata:
We had been checking apps on mobile devices by collecting models that seemed to be selling well and have large market share. However, since we did not have a complete set of all devices available in the marketplace, we had problems checking apps on non-mainstream models as well as models with niche CPUs that were not available within the company.
During this time, we heard about the Remote TestKit solution and evaluated the possibility of introducing it.
-When do you use Remote TestKit? -

Mr. Agata:
We sometimes use it for what we call testing, but we usually use it when we receive an inquiry from a customer about a bug, such as "the app crashes" or "the app doesn't start." Ideally, we would have the actual device on hand, but as I mentioned we do not have all the actual devices we need. So on such occasions, we use Remote TestKit to check whether the problem can be reproduced. After confirming the problem, we modify the app and then again use Remote TestKit to verify the modification.
-Do you use Remote TestKit for any cases besides customer inquiries? -
Mr. Agata:
Sometimes we check apps by specifying an IP address, so we use the service in that way. Remote TestKit is very convenient for this.
(*In Remote TestKit, upon a customer's request, we notify the access source IP address.)
-Remote TestKit has about 300 domestic and overseas models. Which models do you use? -
Mr. Agata:
Basically, we use the devices that customers inquire about. But, since we have the Galaxy, Xperia, and other major devices available within our company, we tend to use minor devices more often. Since Remote TestKit offers older devices and old OS versions, we also use the service for checking apps on them.
Mr. Futagi:
We sometimes receive inquiries from customers who use devices whose use we do not support with our services. However, even in such cases, we try to support our customers as much as possible and search for all possible ways to improve the app's functionality so that they can enjoy the world of Dragon Quest X even just a little more comfortably. Since Remote TestKit offers these unsupported devices, using the service is convenient because we can save the time required to purchase the device and immediately start investigating the causes of bugs. Consequently, we can now solve more cases faster.
-What specific tasks or processes can you perform more efficiently or easily by using the Remote TestKit service?-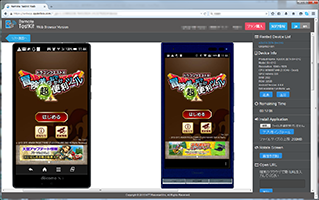 Mr. Agata:
In our company, investigation of customer inquiries is carried out by our test team, which is separate from the project team; the test team has a large number of actual devices for testing. As for the flow of investigation, we first confirm with the test team whether it has the device in question; if they do have the device, we request that the team check the issue. However, if the device in question is available on Remote TestKit, an engineer on the project team can start the check immediately without needing to make a request to the test team. That is the advantage.
-Has the number of devices you purchase decreased as a result of using Remote TestKit? -
Mr. Agata:
Well, we have not decreased the number of devices we purchase. However, we can now solve cases that stumped us before because we were unable to procure the device in question. Basically, we always perform checks on actual devices. We use Remote TestKit as an additional resource.
-Are there any differences between tests carried out with Remote TestKit and tests performed on actual devices? How do you choose which to use? -
Mr. Agata:
On actual devices, the test team forcibly shuts down and starts apps; they also carry out tests while keeping specific screens linked to the game open as well as a full range of other functional tests.
So, we carry out simple tests with Remote TestKit when we receive a customer inquiry. Customer inquiries often include a description of steps to reproduce the flaw. We follow these steps to confirm the problem.
-I see that you have completely separate roles for testing on actual devices and Remote TestKit. So, what Remote TestKit functions do you use? -
Mr. Agata:
We do not use any particularly complex functions, but we use a mouse and keyboard to operate devices on Remote TestKit in the same way we operate actual devices. For example, installing the app, entering the ID and password to log in to the game, and so on.
By the way, one time we used the GPS function. At that time, we added a function that linked in to position information for the first time. But, usually we do not use many functions (laughs).
-Do you have any requests or complaints about Remote TestKit? -
Mr. Futagi:
Some customers have started using Chinese and Taiwanese devices, which can be purchased at affordable prices recently. But the architecture employed by such devices is often unique, so we hope you expand your lineup with such devices.
Mr. Agata:
In addition, it would be convenient to have a function for weakening the strength of the wireless signal. There are quite a number of cases in which a problem occurs because of poor reception. In the case of smartphones, we know many customers use them while on the train.
~Mr. Agata and Mr. Futagi, thank you so much for granting us this interview. ~
About Square Enix Co., Ltd.
Square Enix is a leading entertainment company that continues to produce creative, innovative hit content and services. In addition to its famous "Dragon Quest" and "Final Fantasy" series, the company is expanding its business in four areas: digital entertainment, amusement, publishing, and rights/properties.
?Famous works? "Dragon Quest" and "Final Fantasy" series
About the Case Study on Square Enix Co., Ltd.
We introduced the case of a company which could not previously afford to respond to customers using only its own actual devices that became able to respond to many more customers by using Remote TestKit. Currently, the number of Android devices is increasing rapidly, and we believe Square Enix will continue to need to support various devices. We will continue to assist in the growth of Square Enix!
(C) 2012-2015 ARMOR PROJECT/BIRD STUDIO/SQUARE ENIX All Rights Reserved.